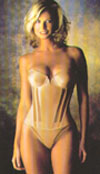 Looking for great bargains? Look no further! Check out the bargains here and on our Bridal Surplus Board on Pinterest. You'll find a link to our Pinterest page on the home page.

Bridal & Prom Liquidation Sale: we're headed down a new path in the bridal world, so all in-stock merchandise has to go. Make YOUR appointment now, and save on all kinds of gowns: bridal, flower girl - bridesmaid & Mom's dresses, starting @ $50 .. accessories, bridal party & special occasions gifts, jewelry & more.

Find TOP DESIGNER gowns at super prices, only here. Allure Couture, Becoming Mrs., Maggie Sottero, Jacquelin, Ginnis, Nina C, Landa Designs, Kiang, DaVinci and others. Come and check out these gorgeous gowns, because we're talking BARGAINS here. Prices range from $349-$1800 (MSRP on some gowns are $4000+).
************************************************


Special collection of bridesmaid gowns, by Roberta. Periwinkle only, assorted sizes 8-22, one of a kind samples, not reorderable. Some mix/match. Jr. B/maid styles included. Several at $50 ... were $129.


ONE OF A KIND: Sage-colored bridesmaid dress, sizes 4 only, very slight fabric pull on lower part of dress, now only $60. Shown in our catalog w/DBC217669; originally $125.

BRAND NEW MARY'S gown, sz. 4: PC Mary's 6376 WS: white strapless with embroidery, basque waist, full skirt, bolero jacket and handbag. Orig. $730, now only $500!!



Angel Rememberance Pins, only $10.80. Antiqued brass finish with beautiful detailing, and a round crystal center accent. Remember someone recently passed, or honor someone still living; either way, it's a lovely gift. Supplies are limited.

PACK HAPPY travel accessories: have a bag to put your lingerie, shoes and laundry into your suitcase for that trip, keeping things organized and clean! His and hers sets available! Only $39.95 for sets of three embroidered durable bags! Use for sports, or quick overnite trips, too! Great gift idea for showers, birthdays, bon voyage parties!




Precious Moments Collectors Sale: One-of-a-kind items, get your special selection now.

* * * * * * * * * * * * * * * * * * * * * * * *

EXQUISITE GIFT IDEA for anytime: regularly $24.99, now only $18.95. Intricate designs feature Winter Scenes, the New England areas to southern coastal areas and lighthouses! IT'S THE PERFECT gift to give ALL YEAR long. Limited to stock on hand. Find these ornaments and candleholders in the GENERAL MERCHANDISE category.


LINGERIE, great for wedding nite or just anytime you want to spoil yourself! Many selections available in plus sizes for women 1x-6x, too! See our LINGERIE section in our catalog! Also, be sure to ask us about our new gift item, PASSPORT PANTIES , (see below!)

Dig in your garden, not in your handbag! Get these fabulous purse organizers now, and end all the handbag clutter (only $14.95+)! Great for suitcases, too!

FOR MEN ONLY --- just what HE's been waiting for! Shoot for something different for YOUR bridal party gifts! Embroidered golf towels for the Father of the Bride AND the groom's party, travel bags, sports motifs on many items, gorgeous cherry finish desk clock designs (only $15!), and more unique gift items for the groom's party! Order your special gift today!

Light your walkways, patio or altar approach with our beautiful luminarias. They're reusable, and come in a variety of colors. You'll find them in our catalog under DECORATIONS. Give your path a golden glow!

FABULOUS NEW FAVORS: great new additions in our catalog!
Keep watching our FAVORS catalog tab as we add new merchandise! Brand new -- the MINI BOUQUET ... and downright reasonably priced! In the FAVORS area, be sure to see the new section marked "CHOCOLATE, CHOCOLATE" ... always in good taste and loved by all!

For the best in a comfortable, figure shaping foundation garment, be sure to see our "FLATTERING ME" bustier: it's the only long-line bra/bustier that you'll ever need or want to wear under EVERYTHING! You'll find it in our catalog under "SLIPS". Variety of sizes in stock!


PASSPORT PANTIES: the newest and coolest lingerie item in our collection! Be sure to pack one in YOUR carry-on bag so that you're assured of having clean underwear & incidentals on arrival, even when your luggage gets lost! Give them as a shower or bridesmaid gift, or gift them to yourself! Regularly $24.95, now only $16.95 . Styles include The Predicament, The Primping and The Perfect Panty! Great to take along to the beach too, so you can pull a quick change from a swimsuit under to panties!

BEAUTIFUL CHURCH PROGRAM COVERS * * * not found in stores -- Fine linen resume or bond quality style stock, packaged in boxes of 100. See the samples in our catalog.

Be sure to see our newest additions in the HEADPIECE section, our delightful MAMA BEAR in the GENL MERCHANDISE category, and the pearl gift set in JEWELRY.

* * *

GOWN CLEANING & PRESERVATION SERVICES: Make this part of YOUR bridal planning or ask for it as a GREAT GIFT ITEM! Take advantage of our extra special service touch, -- this service is NOT offered elsewhere -- and there's no extra charge! See the "Gown Cleaning" page on this site for more information on cleaning and preserving your gown. Prices quoted after gown is inspected. No work done without your authorization. EXTRA BONUS FOR PREPAYING YOUR SERVICES BEFORE THE WEDDING.... so be sure and order YOURS today!

Gift certificates ALWAYS available, whether it's part of your registry, or as a gift for another bride!



Thanks for visiting with us today;
please let us know how we can help!
Call 315-437-0030, or email us today at
thebridalconnection@yahoo.com




You could pay more somewhere else, but WHY would you want to do THAT?